[See here for an earlier German version of this post]
This is the second article in the series "Live Hacks" on teaching from home (#TeachFromHome), where I describe what went well and what didn't. My last article dealt with preparing the first webinar.
Last Friday my first webinar took place. This wasn't actually my very first own webinar (it rather feels like the 500th) but it was the first in this unusual "corona term," and it was the first webinar over almost six (!) hours that I had planned as a complete synchronous or (alternatively) asynchronous event.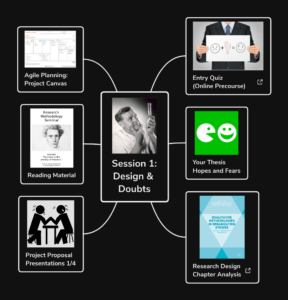 In fact, this was truly one of the best online teaching experiences I've had in many years. The participants were evidently surprised, too. Excerpt from the anonymous feedback ("What did and what didn't you like about this session?"):
»The lesson was structured very well! I enjoyed how engaging the session was, visual explanation of topics and short exercises were also nice. 5+ hours is a bit long for any kind of online session, but the interest was not lost through the process and in my opinion that is because of your teaching style. Thank you for your effort, doing this in current regime is understandably not very easy.«
So, after the premature praise let's see what the students and I achieved together – not a complete overview, because this post must go off and shall not turn into a novel.
As always, I'm looking forward to your questions and comments at the end!
THE TOOLS
My base technologies were more advanced this time (see figure 2 below):
Moodle (Learning Management System of the Berlin School of Economics and Law)
Jitsi (Open Source webinar software) – hosted by Freifunk HH (thank you so much!)
IdeaBoardz.com (Online Kanban board)
Kahoot (Online quizzes – played asynchronously as "Challenge")
Invote.de (Online voting and surveying – German only)
Screencastify (Online video screen recorder)
Mindmaps (I use XMind)
I had originally planned to use Adobe Connect but when the course was about to begin, I could not get a connection on the German Research Network server that hosts our Adobe Connect instance ("User limit exceeded").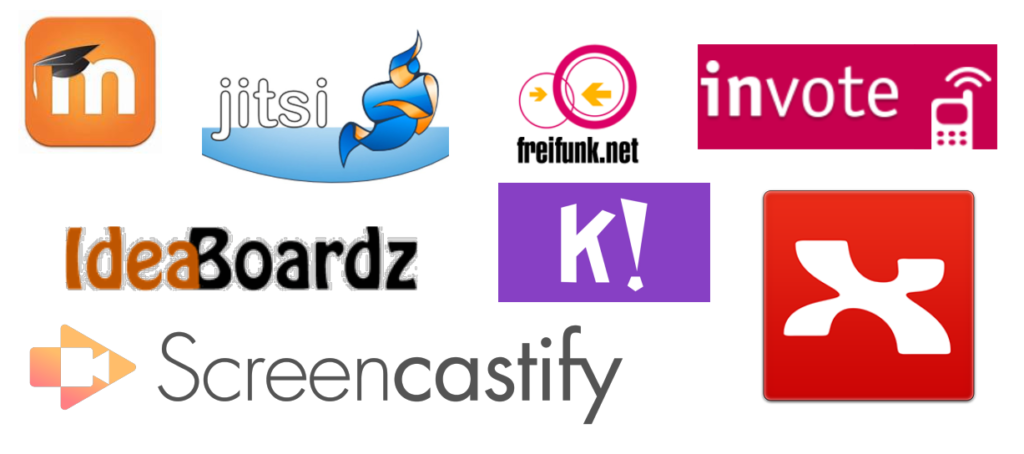 EITHER…OR: SYNCHRONOUS OR ASYNCHRONOUS?
Given the overloaded infrastructure, I was not sure if the seminar would take place at all. Therefore I prepared two completely independent pathways:
On the synchronous pathway, I would teach between 12.30 PM and 5.30 PM using a virtual classroom "as usual" but with a mix of interactive online exercises.
On the asynchronous pathway, the students would work through the content on their own and alone, including the interactive online exercises, but they would still have to do it between 12.30 PM and 5.30 PM.
The particular challenge in both scenarios: several (7) students had to give short (max. 10 min) presentations in this first (of four) sessions of the course.
In order to explain the differences between the pathways, I made a short (2 min) video "The Virtual Classroom". Figure 3 shows the mindmap used for the video.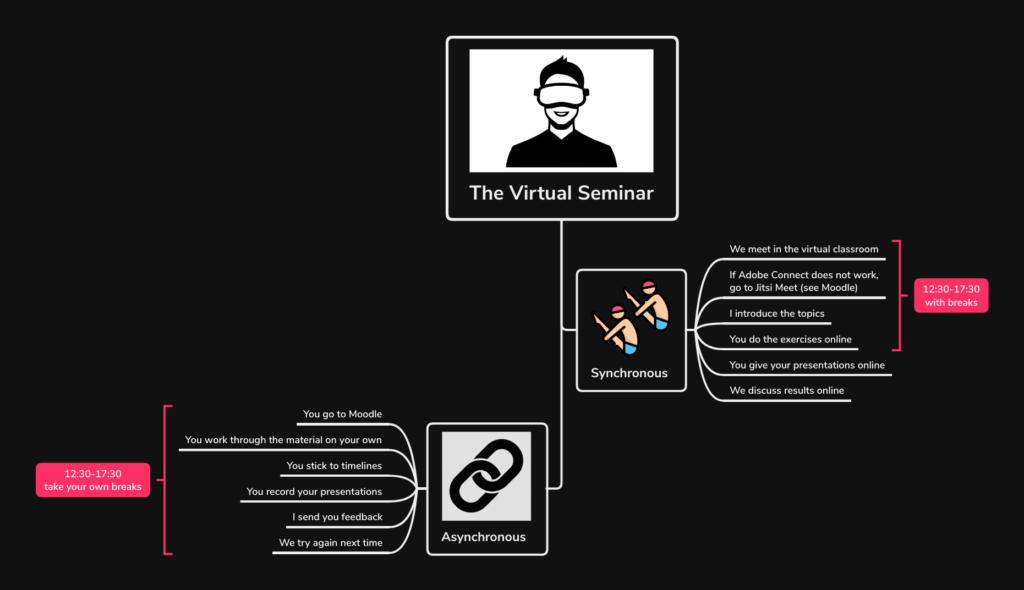 The activities in particular were (see also the plan in figure 6 below):
Welcome/agenda with mindmap (see figure 1 above) and overview of the webinar platform (how do you do what: audio, video, screenshare etc.)
Check in exercise: Hopes and fears of the participants (using IdeaBoardz)
Topical entry quiz (with Kahoot) and discussion of the results
Lecture and discussion on a reading assignment (book chapter)
Exercise with the project canvas (using IdeaBoardz)
Participant presentations (with screen share of PDF files) and discussion
Check out exercise: vote on the best presentation (with Invote)
For the exercises and for the quiz, the participants received a link via chat (also available in Moodle). They were asked to complete the tasks by a given time (between 15 and 30 minutes for each task). I looked at the results in real-time, commented on them as they emerged, and subsequently discussed them with the whole group.
ASYNCHRONOUS CONTENT – VIDEOS AND TIMED EXERCISES
It was my ambition to deliver the class independently of the availability of a real-time (synchronous) webinar session. Hence, the students had to be told offline what to do in case we could not get together online.
I could have given these instructions via Email, of course, but in my experience, a personal address using a video is much more effective. Also, I wanted videos that were much closer to the feeling in my usual classroom: somehow more direct, partly improvised, not too slick but edgy instead, because edginess (if that's the right word for it) can breed contrast, critical thinking, and discussion.
All in all I created 12 short videos (2 min to 10 min length) on the day before class. Half of these were topical, relating to the course subject, the other half contained instructions and background for the interactive online exercises. The total time used for the videos alone was ca. 4 hours.
These videos were meant to be "quick and dirty productions": I did not want to create lesson videos as I had done for my MOOCs (see here) but I wanted to stay as close to my classroom style as possible – rather like a lecture live recording. I did not want to have to spend any time with video post-production, which is incredibly time-consuming: I'd rather have redone a video than edit it. For this session, I had to do this exactly once (because the telephone rang in the middle of the recording and I lost my cool).
I found it easier to teach using mindmaps instead of slides. With a mindmap, you can open or close content, and you don't have to move linearly back and forth when presenting. Everything's always available on one page (and if you wants to go linear, there is an outline display available).
Figure 4 shows an excerpt from the Moodle course: below the headline, there are short instructions for both pathways, followed by the short instructional video for the exercise (using IdeaBoardz) itself.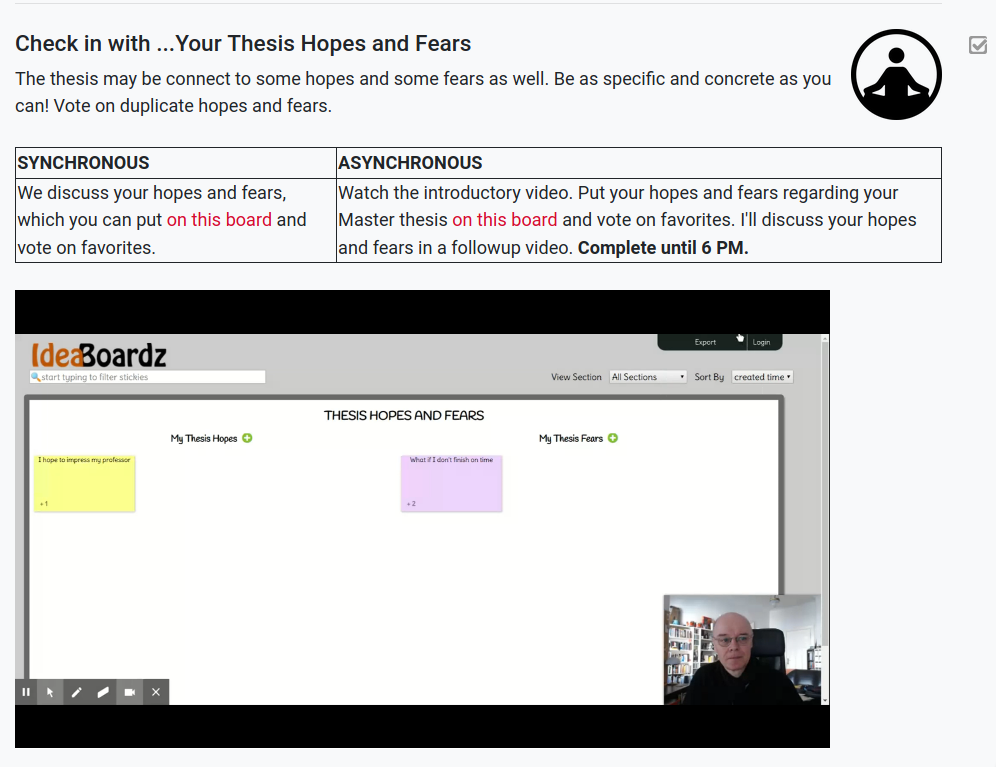 A longer lecture (20 min or more) should be divided up in short videos of 5 min. max each. A collection of linked videos can e.g. be gathered in Moodle as a "book" (see figure 5).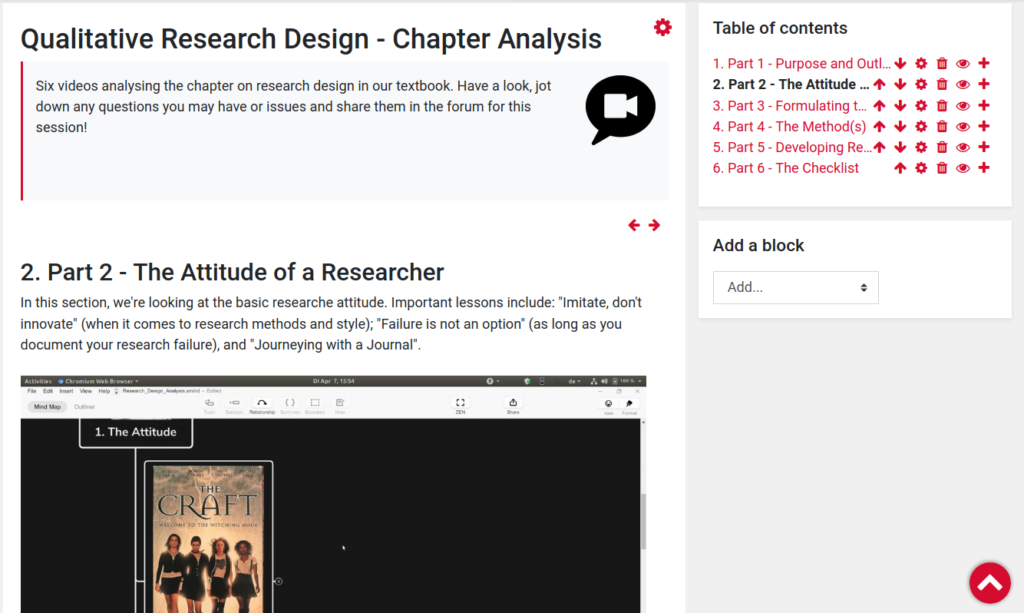 SYNCHRONOUS CONTENT – OBSERVATIONS FROM THE WEBINAR SESSION ITSELF
This time, the webinar worked extremely and unexpectedly well – both technically, and also didactically and emotionally. I already quoted some student feedback – the event felt just like that. Looking back, these steps were important (without any particular system or priority):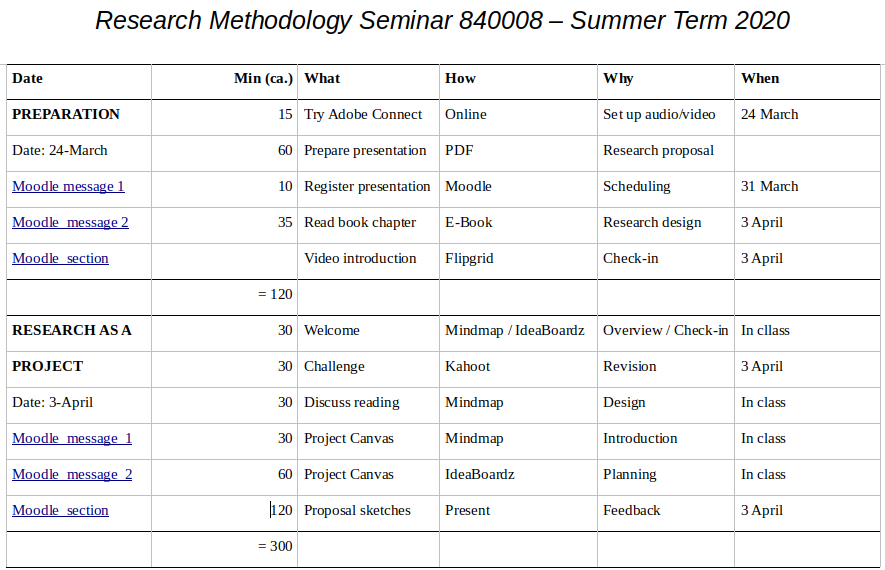 Good planning. I knew exactly what to do when (see figure 6). I had even created this BPMN model using the @Signavio software). This is also what I do in the classroom. However, I had never used any of the interactive tools (IdeaBoardz, Kahoot, Invote) outside of a physical classroom – i.e. I began without any online experience with these tools (which also indicates that they're pretty cool).
The ability to share the screen is really important. E.g. for the check-in exercise when each participant is asked to say how they are doing when thinking about their upcoming Master thesis research (see fig. 8). When the students presented themselves, they could share their screens, but I found it faster and simpler to collect their presentations beforehand (using a Moodle forum) and then share my own screen with the students, advancing their slides on command.
The chat window should always be open and visible because the students park their remarks and utterances there. The moderator and presenters can pick them up and respond at a suitable time. (See figure 7: excerpt from the interactive exercise "Thesis Hopes and Fears"). In the chat, you can directly see if people are engaged or not.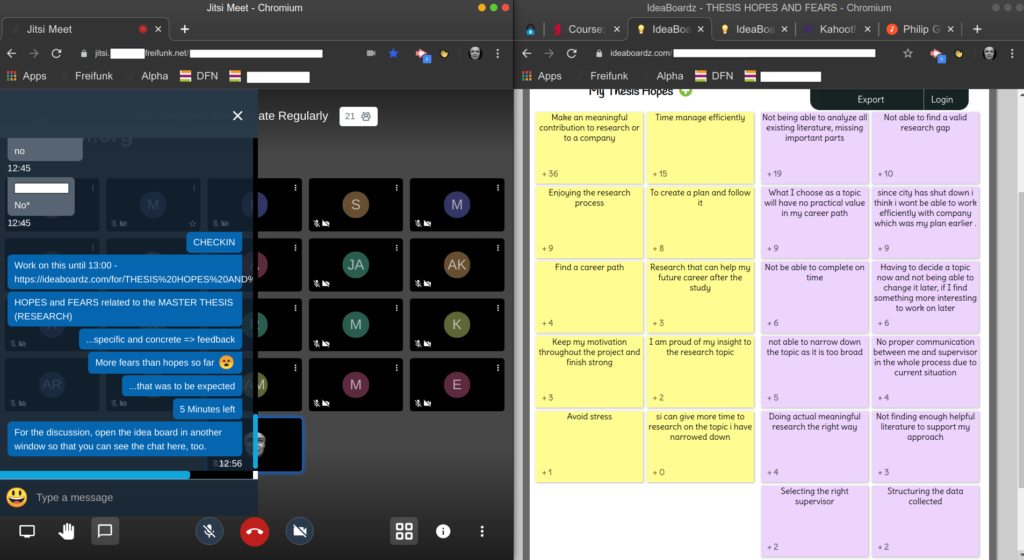 Webcam for participants is really only important for presentations. To see everyone (as in the classroom) is rather distracting, I find. In the physical classroom, students don't see everyone anyway either but (mostly) look at the front of the class. Exception: when participants are supposed to interact with one another (e.g. during group work). Then it would be appropriate to send groups to separate breakout rooms online. (Jitsi does not offer this feature, but both Adobe Connect and Big Blue Button do).
Audio for participants is important for class discussions. Complex comments or discussions on complex topics can hardly be conducted via chat. Audio discipline can become a problem but most platforms give the option of muting disturbing participants,or even to kicking them out altogether.
There was great enthusiasm throughout the entire session. This is probably partly because of the quarantine, which imprisons everyone at home and automatically increases the entertainment value of online teaching. Important: schedule regular breaks! And: have (fake) applause ready. I mixed some applause myself – download it if you like. Applause generates good spirits and community coherence.
I am sure I will think of more issues as time goes by. I will send some feedback to the participants as well as the assignments for the next session. This session will take place in Big Blue Button (BBB) instead of Jitsi Meet – nothing against Jitsi, but we now have our own BBB school server – more control in gneral, and more features. Of course, I'll submit my feedback and instruction as a video link – that's much more personal and direct. By the way: simple audio will do, as I found out in other courses: very easy with the voice recording software Audacity. However, the temptation is great to edit the recordings – because it's so simple.
CONCLUSIONS
I already said it: I had a great experience. Nevertheless, in hindsight, to be prepared both for synchronous and (as an alternative) asynchronous sessions seemed like overkill. I can say that now, because the seminar worked so well. For future sessions, I'll do exactly the same thing, because I intend to re-use videos and online exercises in other courses. If, however, I should have to redo some of them – no worries, because it doesn't take long!
The enthusiasm of the students made me enthusiastic, too: after the seminar, I was not more but less tired than usual after classroom teaching. Teaching in the physical classroom gives me energy and takes energy away, but though I had not expected the same for the online session, that's exactly what happened!
NOTES
About the tools: the tools I used are either free or freemium – XMind, Kahoot and Screencastify are freemium, but what I do with them can also be done with the free versions (at the moment, Kahoot and Screencastify are free too during the Corona term, and XMind enjoys an academic discount). Screencastify requires a Google (Drive) account and only works with the Google Chrome browser – I don't really like that (anymore) but at the end, because of time pressure, this was the best tool to create screencast videos fast. Alternatives exist, e.g. QuickTime (MacOs), Powerpoint + audio (Microsoft 365), CamStudio (Windows), SimpleRecorder (Linux), or just film yourself using your phone in front of a flipchart or whiteboard.
About the course that I'm teaching here: this is a seminar on research methods with 32 international participants enrolled in the MIBMa program of the Berlin Professional School. 28 students voluntarily participated in the webinar. The course itself is a support seminar for students who will have to register their Master thesis research a month from now.
About video production: in order to make these quick videos, I had to let go of my habitual ambition and perfectionism. I was only able to do this after having given up the illusion that virtual teaching means teaching a group. The truth is that the students are completely (and, during quarantine, literally) isolated at home. Only occasionally, or during specific exercises, do they operate as a group. Once I had understood this, I relaxed a lot when shooting videos. Before, I always needed a script to read from, and I was simply unable to be funny or laid-back on screen.
Did you check my numbers? Why would it take 4 hours to create 12 videos of 2 to 10 minutes lengths without editing them at all? Answer: more than half that time is taken up by putting them properly into Moodle – shooting the film itself is the least effort: (1) videos have to be converted (online), (2) converted video must be downloaded, (3) video must be uploaded to our media server (where it is once more transcoded/converted), (4) video is put into Moodle (as a link) and (5) video must be described. The only advantage: once you've gone through this a few times, you can do it without much thought (having time to listen to good music or an audio book).
My time management could have been better, despite the great plan. Online activities always take longer than anticipated. Also, I tend to rattle on: once I've got hold of a new thought, I like to follow it no matter the cost of time…just like in the classroom. This time, the participants did not take it badly, but really, since I didn't see them most of the time, I have no idea if or when they dissociate or disappear. What to do: ask more questions (which of course also takes time)!
Flipgrid: the night before the session I was a little nervous, and I had never met the participants. In order to create some rapport between us, I tried flipgrid.com: on this site, you can very easily create and upload videos. I invited the participants to introduce themselves briefly and informally (max. 1.5 min), and I led by example – here's my own introductory video.
What to do with my videos? As a careful reader, you surely noticed that I skipped this question even though it is extremely important for the asynchronous teaching (when using your own videos or audio). At our school, we have our own media server (as an aside: it currently hosts 318 of my own media). As a lecturer, you need your own account to upload media (apply here: elearning [at] hwr-berlin.de) – audio, video, photos. Media can be inserted into Moodle with two clicks. I don't know any free alternatives – Vimeo is great but not free, YouTube is free but cannot be had without a Google account.